LEAGUE - DIVISION ONE
Lord Dilks won the Eighteenth Mega Drive Championship with a 100% win record and a +64 goal difference. He was top of the league following the first game and was able to maintain it to the end, winning his seventh league title. In the most monopolised league table Division One has ever seen, Commander Graham finished a distant second place with half the points of the Champion. It was Doc Shakib who completed the line-up for Team England. At the ½ way point he was languishing in the relegation spot with 0-points, but went on a three game winning streak that not only retained his Division One status for another tournament, but secured his place in Team England in the penultimate game where he beat Earl Holbrook on Micro Machines '96. Captain Maltby was relegated to the Second Division, after spending four tournaments in the top tier, he finished two-points behind fourth placed Earl Holbrook.
LEAGUE - DIVISION TWO
After losing out on promotion because of goal difference at the Seventeenth Mega Drive Championship, Professor King won the league and earned his promotion to Division One for the first time in his history. He will be joined by Lieutenant Gareth who will return to Division One after an absence of just one tournament, he was relegated to the lower league at the Seventeenth Championship. Baron Von Hooton made a reasonably anonymous return to the contests and only just managed to climb into third place during the final ¼. Reverend Doyle marked his first contest with a fourth place finish while Old Spice Lock finished in last place for his fourth successive tournament.
THE KNOCKOUT
ROUND 2

Earl Holbrook

0

Baron Von Hooton

8

Micro Machines '96

SEMI-FINALS

Baron Von Hooton

0

Commander Graham

2

Commander Graham

6

Lord Dilks

1

Golden Axe 2

FINAL

T.M.H.T

Commander Graham

0

Lieutenant Gareth

2

Lieutenant Gareth

3

Primal Rage

Professor King

0

Lieutenant Gareth

3

Road Rash 3

Doc Shakib

0

Ball Jacks

Doc Shakib

2

Captain Maltby

0

Eternal Champions
Lieutenant Gareth became the first Division Two member to win the Tournament Knockout since Sir Jackaman way back in the Ninth Mega Drive Championship. Lieutenant Gareth had previously managed to reach the final at the Fourteenth Tournament where Mr Smith beat him in a 2-1 epic on Super Street Fighter 2. This time Division Two member convincingly beat his Division One opponent, Commander Graham, 2-0. Commander Graham's own record in the Knockout is patchy and this marks his best performance to date, beating Lord Dilks and Baron Von Hooton on his path to the final. Lieutenant Gareth successfully negotiated Professor King and Doc Shakib to reach the final. The Eighteenth Championship, Primal Rage, final did not quite reach the same passionate heights as previous Knockout finals.
THE CHALLENGE
Team Name

Division One Member

Division Two Member

Game 1

Game 2

1st

AWESOME

Doc Shakib

Professor King

W (3-1)

W (1-0)

2nd

FORCE

Commander Graham

Baron Von Hooton

W (1-0)

L (0-1)

3rd

DEFUNCT

Lord Dilks

Old Spice Lock

L (1-3)

W (3-2)

4th

FAST FOOD

Captain Maltby

Lieutenant Gareth

L (0-1)

L (2-3)
The Elitserien '96 Challenge marked a huge change from the Street Fighter/Eternal Champions Challenges of previous tournaments. Four teams were selected comprising of one Division One member and one Division Two member. In the mini-knockout it was Team Awesome (Doc Shakib and Professor King) who prevailed beating Team Force (Commander Graham and Baron Von Hooton) 1-0 in the final. The third place bracket was contested between Team Defunct (Lord Dilks and Old Spice Lock) and Team Fast Food (Captain Maltby and Lieutenant Gareth) and it was the former who won third following a tight 3-2 encounter.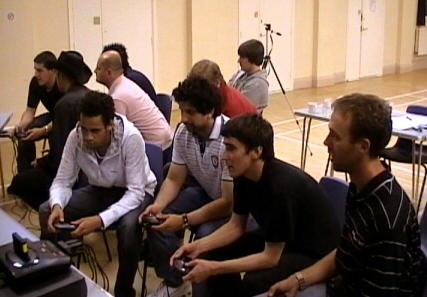 THE DIVISION TWO CUP
Professor King retained the Division Two Cup for a second successive tournament. There was a lot of pride at stake during the Road Rash 3 final. It marked the third time Professor King had played Lieutenant Gareth on Road Rash 3 in the tournament; Professor King winning their league clash and Lieutenant Gareth winning the Knockout fixture. In winning this competition Professor King became the first member to win the Division Two league and cup double.