THE FOURTH MEGA DRIVE TOURNAMENT REVIEW
There was scarcely two weeks to breathe between Mr Smith winning the title at the Third Tournament and the Fourth Tournament of Kings kicking off. The five famous warriors from the Third Tournament returned to pick up their controllers. There had been some discussion about altering the games used, but, in the end, nobody was willing to give up the games which gave them their advantages. So with an identical line-up, expectations were a repeat in the final standings would occur. The Fourth Mega Drive Championship took place over three-legs with a glut of pride, passion and Pete Sampras Tennis, the tournaments even managed to avoid the outbreak of foot and mouth disease which was sweeping the country.
The first fixture of the Fourth Mega Drive Championship saw the two tournament titans go head-to-head on Golden Axe 2. Mr Smith had won two of their three previous fixtures - the last one by a massive 8-0 scoreline, so it was considered a shock victory for Lord Dilks when he won the fixture by a tight 1-0. It could be an omen, but the person who won the Mr Smith vs Lord Dilks encounter on Golden Axe has always gone on to win the tournament, but perhaps it is too early to call the winner of the tournament after just one fixture!
The next game saw Baron Von Hooton play Captain Maltby on Sonic 2. Although Baron Von Hooton was favourite, Captain Maltby performed well, the score was 2-2 after the Casino Night, however, he went and lost the tie in the Mystic Cave Zone, Baron Von Hooton took the tie 4-2. Games 3 and 4 provided no surprises, although Doc Shakib was unable to dispatch Baron Von Hooton on Pete Sampras Tennis as effectively as he might have hoped. Game 4 saw a comfortable 17-1 victory for Lord Dilks over Captain Maltby on World Cup Italia '90.
The next clash saw Doc Shakib face Mr Smith on Pete Sampras Tennis. Although Mr Smith's has improved considerably since this game was introduced at the Second Tournament, he was still ranked third overall, behind both Lord Dilks and Doc Shakib. So, in what must be considered the second shock of the competition, Mr Smith achieved a 6-2 convincing victory over Doc Shakib, raising Mr Smith to second in the overall rankings.
Lord Dilks scored a comfy 5-0 against Baron Von Hooton on Golden Axe 2 before a shock nearly happened on the same title, as Doc Shakib's Mike managed to, just, overcome a battling Captain Maltby 1-0. Mr Smith scored a comfortable 5-1 victory over Baron Von Hooton on Sonic the Hedgehog 2 before another shock emerged.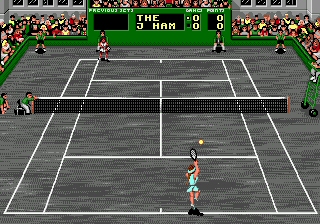 Having beaten Doc Shakib on Pete Sampras tennis, Mr Smith was easily favourite to score another win on this game, especially since Captain Maltby was his opponent. Yet Captain Maltby was no slouch on Pete Sampras Tennis, indeed, it was easily his strongest tournament game and by the time he faced Mr Smith he had improved his serve (we assume by watching Lord Dilks's controller) and was able to batter Mr Smith 6-1.
The next game was a technicality, as Lord Dilks thumped Doc Shakib 11-0 on World Cup Italia '90. Then something rather pure happened and it had nothing to do with the Mega Drive! The tournament members assembled around a VCR to watch an episode of Eastenders. This epic BBC drama was the episode in which Ian Beale, having overspent investing in a series of flats, rushes frantically around Walford Square attempting to secure funds from various characters: Steve Owen, Mark Folwer, Phil Mitchell and Nick Cotton. The episodes climaxes with a confrontation between a desperate Ian and angry Phil who reveals that Ian has been "bleeding me dry" for months. In spite of Ian's remonstrations that those flats are "a gold mine", Phil walks away from the investment leaving Ian to go bankrupt.
Returning to 16-bit action, and refreshed from the episode of Eastenders, fixture 11 saw a tight battle between Baron Von Hooton and Lord Dilks on Sonic the Hedgehog 2, the slight favourite, Baron Von Hooton scraped the victory 3-2. Mr Smith then beat Captain Maltby 15-1 on World Cup Italia '90.
Next came Doc Shakib and Mr Smith on Golden Axe 2. Traditionally this has been a tight affair since the epic 1-0 victory of Doc Shakib over Mr Smith on Golden Axe in the First Tournament. This time was an equally tight encounter, but it was Mr Smith who claimed the 1-0 victory.
The final game of the first leg was Captain Maltby Vs Lord Dilks on Pete Sampras Tennis. After Captain Maltby's destruction of Mr Smith earlier in the competition after the mastering of the fast serve, it was anticipated a close affair might occur. It was to the shock of the members when Captain Maltby took the first game, however, after that it was all Lord Dilks and the final score was 6-2.
| | | | | | | | | | |
| --- | --- | --- | --- | --- | --- | --- | --- | --- | --- |
| | | P | W | D | L | G | C | G.D. | PTS |
| 1 | Lord Dilks | 6 | 5 | 0 | 1 | 42 | 6 | +36 | 15 |
| 2 | Mr Smith | 6 | 4 | 0 | 2 | 28 | 11 | +17 | 12 |
| 3 | Baron Von Hooton | 5 | 2 | 0 | 3 | 11 | 20 | -9 | 6 |
| 4 | Doc Shakib | 5 | 2 | 0 | 3 | 9 | 21 | -12 | 6 |
| 5 | Captain Maltby | 6 | 1 | 0 | 5 | 11 | 43 | -32 | 3 |
The second leg started less than a week later. Lord Dilks led the league by 3-points over Mr Smith, with a vastly superior goal-difference. Baron Von Hooton held third-place, level on points with fourth-place Doc Shakib, but with a better goal-difference. Captain Maltby was in a very familiar last place, three-points behind Doc Shakib and Baron Von Hooton.
The second leg started off well for Doc Shakib who played in the first two fixtures and won them both; firstly a 9-0 victory over Baron Von Hooton on World Cup Italia '90 before a 4-1 victory over Lord Dilks on Sonic 2. This placed Doc Shakib level on points with second placed Mr Smith and Mr Smith 3-points behind his rival Lord Dilks with a game in hand.
Captain Maltby then pulled himself level with Baron Von Hooton, by beating his rival in a tight 6-4 match on Pete Sampras Tennis, this was this first time Captain Maltby scored two wins in a tournament and with over half the competition remaining, it was speculated whether Captain Maltby might be able to challenge Baron Von Hooton. However, Captain Maltby was unable to keep the results going in his favour and in the next fixture, lost 5-0 to Mr Smith on Golden Axe 2.
The next fixture saw Lord Dilks play Mr Smith on World Cup Italia '90. While Lord Dilks was the favourite for the fixture, the two tournament titans had gone head-to-head on three previous occasions and the scores had been slowly getting closer. The First Tournament saw Lord Dilks win 5-0, the Second Tournament produced another victory for Lord Dilks, but Mr Smith narrowed the score to 5-3, finally, at the Third Tournament, the result was a passionate 2-2 draw. Would the Fourth Championship see Mr Smith take the next step and claim a victory over his rival? No! Lord Dilks managed to score a further win over Mr Smith, however, in spite of goals being in abundance, Lord Dilks was never really threatened - the final score 7-5.
Fixture 20 saw Baron Von Hooton face Doc Shakib on Sonic 2. Doc Shakib was comfortably in third-place, well ahead of the bottom two of Baron Von Hooton and Captain Maltby, but still a couple of points behind Lord Dilks and Mr Smith. He was to close the gap further following this narrow 3-2 triumph over Baron Von Hooton.
Doc Shakib then went up against Lord Dilks on Pete Sampras Tennis for the first time since the epic 7-6 game at the Third Tournament that gifted Lord Dilks second spot. There was to be no repeat of that narrow victory as Lord Dilks won comprehensively 6-2. This extended his lead at the top to 6-points, but following the next fixture, Mr Smith undertaking the formality of beating Captain Maltby on Sonic 2, the gap narrowed to just 3-points.
Aside from a convincing World Cup Italia '90 win over Captain Maltby, Mr Smith was struggling to find the goods on this ancient soccer sim. Now up against Baron Von Hooton, the defending Champion looked uncomfortable. Yet Mr Smith had just enough to win by a nose, the final score of 7-6 could have gone either way.
Lord Dilks re-established his 3-point lead at the top of the table with a convincing 6-0 win over Captain Maltby on Golden Axe 2, before Doc Shakib beat Baron Von Hooton 5-0 on the same title. Then, completing a trio of games on Golden Axe 2, Baron Von Hooton and Captain Maltby faced-off. The pair both languished at the foot of the table with 6-points apiece, Captain Maltby had finished bottom at both his previous tournaments and had never won a game on Golden Axe, but now he had the opportunity to kill those two birds with one fixture. Sadly for him, Captain Maltby could not find the form necessary for the win and with a 4-0 victory, Baron Von Hooton climbed 3-points ahead of his rival. With less than 15 fixtures remaining, Captain Maltby had arguably lost his best opportunity to escape last place.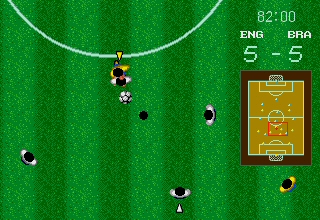 The final game of the second-leg was World Cup Italia '90 as an out of form Mr Smith took on Doc Shakib. The top of the table was extremely tight: Lord Dilks led the league with 24-points, Mr Smith was 3-points behind with 21, Doc Shakib a further 3-points behind with 18. Baron Von Hooton and Captain Maltby trailed a long way, although neither ever had a realistic chance of winning the tournament. The outcome of this fixture would boost the prospects of Mr Smith or Doc Shakib. It was a tight game, but in the end it was Mr Smith who took the victory and levelled his points total with Lord Dilks, 6-5 was the final score.
The competitors went into the final leg with the league table possessing a predictable feel. Mr Smith and Lord Dilks were vying for the title: both were level on points, but Lord Dilks had the superior goal difference and a game in hand over his rival. In spite of pushing Lord Dilks to the final fixture at the Third Tournament, Doc Shakib was unable to repeat the fete this time around, and was settling in a comfortable third place. Baron Von Hooton and Captain Maltby languished in the lower half of the table. The foot and mouth epidemic continued to have no effect upon the Mega Drive Championship. The Fourth Tournament had been a golden time, however, in the final leg there was a slow sensation of stagnation and predictability beginning to emerge, but for now the unknown element of the eventual tournament winner was enough to keep the competitors engaged.
The first game of the leg saw Lord Dilks take on Captain Maltby, the two weakest competitors on Sonic 2. If Captain Maltby were to stand any chance of lifting himself from the foot of the table, he would need a victory here. Lord Dilks needed the win to keep ahead of his title challenger, Mr Smith. This was an extremely tight affair and by the end of the Casino Night, the score was 2-2, however, Captain Maltby's inability to cope with the difficulty of the Mystic Cave Zone was his undoing and Lord Dilks was able to win both zones and claim the 3-points, before going on to gain a further 3 by hammering Baron Von Hooton 6-0 on Pete Sampras Tennis.
Lord Dilks stood 6-points clear at the top of the table, having played an extra game than his rival, who now took on Doc Shakib on Sonic 2, a game which Mr Smith had traditionally had no issue dispelling Doc Shakib, although the Doc was the closest thing Mr Smith had to a rival on Sonic 2. The result was a shock one and shifted the balance of the tournament dramatically in the favour of Lord Dilks, a 3-3 draw was the first time Mr Smith had dropped points on Sonic and gave Lord Dilks a 5-point cushion at the top of the table.
The sun was now beaming into the Theatre of Dreams, making the 16-bit battle difficult to see, so it was decided to draw the curtains, this decision was also partly attributed to the awesome amount of pressure and purity of the 4th Tournament, which was now moving towards its conclusion. Next up was another Pete Sampras Tennis tie and Captain Maltby faced Doc Shakib. On paper this tie seemed reasonably uninspiring; however, the two warriors gave it their all and produced a 6-4 slog in favour of Doc Shakib, there were whispers that Doc Shakib might do enough to take second-spot for the first time in his tournament career, having come so close at the Third Championship.
The next game was a 12-2 hammering for Captain Maltby on World Cup Italia '90 at the hands of Baron Von Hooton – a result which almost confirmed Captain Maltby in last place and Baron Von Hooton into fourth. Baron Von Hooton then astounded the other tournament members and probably himself by producing a massive shock, beating Mr Smith 2-0 on Golden Axe, badly damaging the defending Champions hopes of holding onto his title.
However, fate has a funny way of working and while the next fixture of Lord Dilks and Mr Smith on Pete Sampras Tennis seemed like a certain victory for Lord Dilks on paper, the reality of the game proved hugely difference. Mr Smith had been practicing hard on Pete Sampras Tennis and had discovered an effective little trick which was dubbed a "mini-lob" by the members. While previous battles on Pete Sampras Tennis had been an array of long rallies, Mr Smith utilised the length of the tennis court by playing short balls to draw his opponent to the net before lobbing the ball over them. In this manner he was able to inflict Lord Dilks's first ever defeat on the tennis title, the 6-4 victory lifted Mr Smith away from the challenge of Doc Shakib and closed the gap to his rival to a mere 2-points with just 6 fixtures remaining.
In order to finish second, Doc Shakib would need to win his remaining 3 fixtures and required Mr Smith to drop points one of his last 2. Mr Smith could be the first person to defend the Mega Drive Champion title if he won his last 2 fixtures and Lord Dilks lost 2 of his remaining 3. The Gods were seemingly smiling on Mr Smith who faced his rival, Lord Dilks, on Sonic 2 in the last game of the tournament. So the crucial tie was starting to emerge as Doc Shakib v Lord Dilks on Golden Axe 2 – the battle of Mike and Hannah. There were, however, two games to play before this tie. Doc Shakib v Captain Maltby on Sonic 2 proved to be so far so good for Doc Shakib who earned a convincing 5-1 win. The next fixture saw Lord Dilks take on Baron Von Hooton on World Cup Italia '90. The result was an assured win for Lord Dilks, however, he would have perhaps liked to have beaten his opponent by a bigger margin, with the final score 8-2.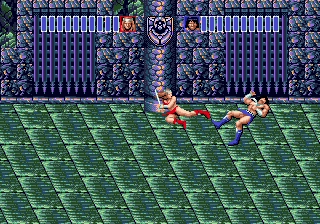 Fixture 37, Doc Shakib v Lord Dilks on Golden Axe 2, was Lord Dilks's opportunity to seize the tournament title from his rival Mr Smith. Games between Doc Shakib and Lord Dilks on Golden Axe 2 are often exciting affairs, being 2-players of similar ability, the countdown method of scoring and now with the title resting on the outcome, this game was one of huge significance. So notable were Doc Shakib v Lord Dilks – Golden Axe 2 encounters, they were dubbed the battle of Mike and Hannah, after the characters they selected. This was the greatest game the pair had ever produced, or likely to produce, so significant was this encounter that both players circled each other tentatively neither wanting to make a mistake and leave themselves vulnerable. For 15-minutes this match continued, it was not a cold day, but sweat adorned Doc Shakib, Lord Dilks and Mr Smith, the score-line was close but it was Lord Dilks who claimed the win and the title, by the narrowest 1-0 result he became the Fourth Mega Drive Champion.
There was, however, a number of fixtures remaining before the competition ended. Mr Smith beat Baron Von Hooton 6-2 on Pete Sampras Tennis before Doc Shakib battered Captain Maltby 19-0 on World Cup Italia '90, continuing Captain Maltby's abysmal record on that game. The tournament was concluded with the two tournament titans going head-to-head on Sonic 2. The result was broadly irrelevant, however, it gave Mr Smith the opportunity to re-gain some pride and leave the gap between the pair in the final league standings significantly narrower. The 4-2 victory bought Mr Smith to finish 2-points behind his rival.
The Fourth Tournament was over, Lord Dilks was Champion, Mr Smith finished in second, Doc Shakib third, Baron Von Hooton in fourth and Captain Maltby was last. There had been some riveting encounters and a number of shock results had produced one of the greatest tournaments to date. Yet during the final leg, the epic title challenge aside, there was a sense of stagnation. The four tournament games had been reused to the point of tedium and predictability. Lord Dilks was the Mega Drive Champion, but there would need to be some changes before the Fifth Tournament if the competitions were to continue to be successful.