THE FIFTH MEGA DRIVE TOURNAMENT REVIEW
The Tournament website has reached its first 300 hits! However, it is was not all celebrations in tournament circles and the staleness of the system is obvious. Captain Maltby has been very discontent with the tournaments and change is needed for the Sixth Tournament. The five Mega Drive legends picked up their controllers once again and ploughed on with another tournament that lasted for four-legs.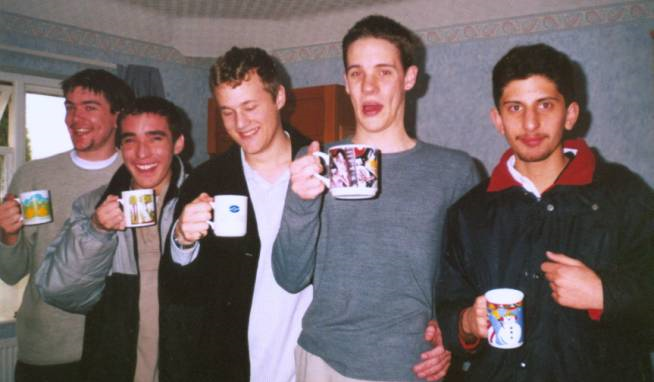 The Fifth Tournament Members: Captain Maltby, Baron Von Hooton, Lord Dilks, Mr Smith and Doc Shakib.
Lord Dilks started the tournament well. The first game was a predictable 6-2 victory for Lord Dilks against Captain Maltby on Pete Sampras Tennis, before Lord Dilks scored a comfortable 9-0 win over Baron Von Hooton on World Cup Italia '90. Mr Smith also started off his tournament campaign well, beating Doc Shakib 5-1 on Sonic 2 and then shocked the onlookers by crushing Captain Maltby 6-1 on Pete Sampras Tennis. After four games, Lord Dilks and Mr Smith topped the table with 6 -points each, while Captain Maltby, Doc Shakib and Baron Von Hooton had 0-points.
Baron Von Hooton and Doc Shakib, however, had played one games less than the other players and they went head-to-head on Golden Axe 2. Doc Shakib scored the 3-points and, after 5 games, the table had a very predictable feel to it. The sixth fixture was something of a shock, with Captain Maltby facing Lord Dilks on Sonic 2, the defending champion was not expected to slip up. However, Captain Maltby put in a good performance and was leading the tie 3 - 1 after the Casino Night Zone. Captain Maltby, however, has never been very good in the Mystic Cave and Lord Dilks was able to return the result to a slightly more respectable 3 - 3 draw. Baron Von Hooton beating Captain Maltby on World Cup Italia '90 was a predictable scoreline and marked the end of the first leg. While two of the seven fixtures were surprises, there was a very stale atmosphere from the same tired games. We decided to call it a day and wait for the second leg.
Sonic 2 returned for its fifth successive tournament.
In spite of a few fun games, it was obvious the tournaments were dying.
Between the first and second legs, drama struck and we aren't talking about the night Lord Dilks and Mr Smith managed to get Baron Von Hooton down the pub and he threw up on a barstool... after less than 2-pints. Captain Maltby, who had been complaining about World Cup Italia '90 and, now, Golden Axe 2, decided enough was enough and his constant defeats on boring games was too much and he announced his retirement. Captain Maltby did commit to complete his fixtures. Still, it was a bitter blow.
The foot and mouth epidemic still gripped the UK and (probably unrelated) Lord Dilks then fell ill and collapsed required hospital treatment and doubts were raised as to his attendance at the second leg. The already stale atmosphere would be even worse without Lord Dilks! It was at this point that Doc Shakib, also feeling unhappy with the predictable and stale tournament, stated that he would be unable to take part in the second leg because he "will have to put my jeans on". Upon hearing this news, Lord Dilks wrote a strongly worded letter to Doc Shakib.
At 5:30pm on the day of the second leg, Mr Smith appeared at Dilks Towers with Captain Maltby, a wheelchair and a bunch of grapes. In a show of solidarity, Mr Smith pushed his arch-rival to the venue, while Captain Maltby carried the tournament trophy and Lord's Dilks' tournamental controller (the Black Special). But would Doc Shakib turn up for the event? He did at 6pm and the second leg could continue.
Lord Dilks' weakened condition quickly became apparent as Mr Smith pulled off a shock 6-2 victory on Pete Sampras Tennis. Baron Von Hooton then successfully held Doc Shakib to a 3-3 draw. Then it was Doc Shakib's turn to provide a shock, beating Mr Smith 3-0 on Golden Axe 2 and this took us to the quarter way point. The table was in a very familiar order. While Mr Smith was only 2-points ahead of both Lord Dilks and Doc Shakib. Baron Von Hooton, as usual, bridged the gap between Captain Maltby and the top three. However, even at this early stage, Baron Von Hooton and Captain Maltby's positions seemed set in stone.
Doc Shakib pushed himself to the top of the table with a narrow 4-2 win over Baron Von Hooton on Sonic 2. However, this would only last for one game, as Mr Smith scored an impressive 7-0 win over Baron Von Hooton on Golden Axe 2. Baron Von Hooton scored his first ever victory on Pete Sampras Tennis when he caused a shock in beating Captain Maltby 6-4. Doc Shakib then returned to the top of the table with a 4-2 victory over Lord Dilks on Sonic 2. Captain Maltby then stated he could not be bothered to play the next fixture, a certain defeat against Mr Smith on World Cup Italia '90. It took a few discussions to decide what should occur, but it was decided Captain Maltby would lose the fixture 10-0. Mr Smith returned to the top of the table. Nobody really felt like any more Mega Drive and so it was decided to end the second leg at this point, as it would be unfair to Lord Dilks if the epic Battle of Mike and Hannah was fought in these circumstances. In spite of the staleness surrounding the tournaments, the second leg was able to provide some purity.
| | | | | | | | | | |
| --- | --- | --- | --- | --- | --- | --- | --- | --- | --- |
| | | P | W | D | L | G | C | G.D. | PTS |
| 1 | Mr Smith | 6 | 5 | 0 | 1 | 34 | 7 | +27 | 15 |
| 2 | Doc Shakib | 6 | 4 | 1 | 1 | 18 | 12 | +6 | 13 |
| 3 | Lord Dilks | 5 | 2 | 1 | 2 | 22 | 15 | +7 | 7 |
| 4 | Baron Von Hooton | 7 | 2 | 1 | 4 | 23 | 31 | -8 | 7 |
| 5 | Captain Maltby | 6 | 0 | 1 | 5 | 11 | 43 | -32 | 1 |
It was not a great shock in the circumstances, but Lord Dilks languishing in third place, ahead of Baron Von Hooton on goal differnce only, raised an eyebrow among the tournament circle. Yet Lord Dilks had one game in hand over the other members and two over Baron Von Hooton and while Lord Dilks had legitimate reasons for his poor form in the second leg, he found himself a massive 8-points behind his rival Mr Smith. Even Doc Shakib's 6-point advantage seemed like a lot. Captain Maltby was rooted to the foot of the table as always. The real question on everybody's lips was did Doc Shakib have the ability to fight two times Champion Mr Smith for the title?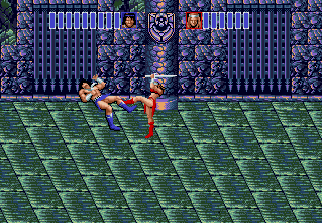 The 4th Tournament saw a classic battle of Mike and Hannah. Doc Shakib thrashed Lord Dilks 8-0 at this torunament.
The third leg was held 6-weeks later in order to give Lord Dilks time to recover and kicked off with the battle of Mike and Hannah. Normally these are close encounters, but Doc Shakib's 8-0 victory this time was a big shock. Lord Dilks now had a negative goal-difference and, for a man used to achiving crushing World Cup Italia '90 scorelines, to be in negative territory at this stage in the competition was highly irregular. Doc Shakib's victory in the battle of Mike and Hannah pushed to the top of the table. Mr Smith crushed Captain Maltby 6-0 on Sonic 2, before Lord Dilks finally managed to put a little of bit of distance between himself and fourth placed Baron Von Hooton, with a 6-1 victory over Baron Von Hooton on Pete Sampras Tennis. Captain Maltby, who had been criticised for his decision to forfeit and earlier game, chose to play Doc Shakib on World Cup Italia '90, and lost 12-2.
Since the tournaments began, it has been the battle of Mike and Hannah that grabs the attention of the onlookers. This is in spite of the fact that at the First Tournament it was Doc Shakib's 1-0 victory over Mr Smith that was easily the game of the tournament and the fact that the Mr Smith and Lord Dilks clash on Golden Axe has been the barometer as to who would win the tournament title. Mr Smith won the clash at the first and third tournaments and claimed the trophy. Lord Dilks had won at the second and fourth tournaments and went on to be Champion. This time it was Mr Smith who won the Golden Axe 2 tie... which pushed him back to the top of the table with 21-points, more than double the amount his rival Lord Dilks had managed to secure.
| | | | | | | | | | |
| --- | --- | --- | --- | --- | --- | --- | --- | --- | --- |
| | | P | W | D | L | G | C | G.D. | PTS |
| 1 | Mr Smith | 8 | 7 | 0 | 1 | 42 | 7 | +35 | 21 |
| 2 | Doc Shakib | 8 | 6 | 1 | 1 | 38 | 14 | +24 | 19 |
| 3 | Lord Dilks | 8 | 3 | 1 | 4 | 28 | 26 | +2 | 10 |
| 4 | Baron Von Hooton | 8 | 2 | 1 | 5 | 24 | 37 | -13 | 7 |
| 5 | Captain Maltby | 8 | 0 | 1 | 7 | 13 | 61 | -48 | 1 |
We reached the halfway stage of the tournament and Mr Smith held a narrow 2-point advantage. In spite of being more recovered, Lord Dilks was 11-points adrift of his rival, Mr Smith, he was closer to fourth placed Baron Von Hooton than second place Doc Shakib. There were eight more games in the third leg and all of them were predictable. The feeling was stale with the only surprise being the fact that snow started falling outside... it was June! Baron Von Hooton could not resist saying the famous lines "sometimes the snow comes down in June, sometimes the sun goes round the moon". The unpredictable can happen but not with the Mega Drive tournaments it seemed. Doc Shakib surrendered his grip on the top spot, with defeats on World Cup Italia '90 and two on Pete Sampras Tennis. Lord Dilks also scored a record high score when he beat Captain Maltby 44-0. Captain Maltby wanted to forfeit the game and Lord Dilks refused. Captain Maltby therefore played the majority of the second half with his feet in protest.
The fourth leg saw twelve predictable games. There was no passion at the end of this tournament, everybody wanted it finished. None of the games were worth discussing. Mr Smith won the tournament and while Lord Dilks closed the gap with Doc Shakib, he was unable to overturn it and finished in third place for the first time in his tournament career. Doc Shakib, who had finished third in every previous tournament now found himself second. While Doc Shakib and Lord Dilks' final positions should have been big news, everybody was just glad it was over. Baron Von Hooton finished fourth and Captain Maltby last. The tournament trophy returned to Mr Smith, who celebrated his third title success.
Then it was time to say goodbye. Captain Maltby's 5-0 defeat on Golden Axe 2 had been his final game in the Mega Drive Championships. He was presented with a clock that had been purchased on behalf of all members and applauded for his time. Then he gave a small speech to mark the occasion "Friends, Romans, countrymen. Thank you for letting me join and letting me leave. I've had four loses and will be back next time to give Matt my spoon. I'd like to thank everybody here, my fans, Slowhand, Sega and the person who made this clock." The Fifth Tournament was one that would be remembers more for the non-Mega Drive events than the 16-bit gaming. The tournaments are is desperate need of change. There are now just four tournament members in a stale situation. Baron Von Hooton will all but certainly finish in last place at the Sixth Tournament. The future is uncertain.